Enid Sawkins had in her possession a bible (King James Version, publication date not shown) which has been passed on to me. I believe it was part of her mother's effects when she died. Enid had done most of the research into the Bible's owner and her family.
Inside the front cover the Bible has a handwritten inscription:

Given to Mary Rowley.

Feb. 1804(?)

From the Hadham School of Industry

Inside the back cover were further inscriptions:

Mary Rowley. Her Book. Dec. 25th 1807(?)

and in apparently different handwriting:

At Upton. Born March 10 - 1855. Marianne Elizabeth Boultwood

At Warnham. Born October 30 1857. Ellen Boultwood.

At Warnham. Born Dec. 1 1861. Emma Mary Boultwood

From the nature of the inscriptions it would appear that the births recorded are Mary Rowley's grandchildren.

Click on the pictures

to see more detail
We know that Mary Rowley's parents were Robert Rowley and Susanna Fuller who we believe were married in 1771 at Much Hadham in Hertfordshire. Mary Rowley was born on 17 June 1791 - about twenty years later, which means her mother was quite young when she got married even though we believe she was already a widow. It also means that the Bible was apparently given to Mary Rowley when she was about 13 years old. We have been unable to find any record of the Hadham School of Industry.
Mary Rowley married Joseph Baldock at Ware, about 5 miles away, at the age of 33 on 25 May 1825. They had at least one child - Marianne (Elizabeth?) Baldock - born two years later at Ware on 9 September 1827.

Marianne in turn married Thomas Robert Boultwood (born in Hadham in 1828) when she was about 26 in 1854. He was described as a "Coachman" (domestic servant). They had the three children mentioned in the bible inscription, Marianne Elizabeth at Upton (not sure where that is) on 10 March 1855, Ellen at Warnham (near Horsham in West Sussex) on 30 October 1857 and Emma Mary at Warnham on 1 December 1861. It is assumed that Mary Rowley wrote these details of her grandchildren in the Bible.

There is a cross-stitch sampler with alphabet and numbers also with "M.E. Boultwood. Aged 10 years. Habin School. July 14th 1865" which was framed by Enid Sawkins. I have had it cleaned and re-framed to match the one mentioned below. (Click here to see it)

We have been unable to trace the Habin school, but Habin (pronounced "Hay-bin") is a small village just South of Rogate over the Sussex border from Petersfield. It is about 30 kilometres west of Warnham. It has a few farms, including a fairly large one marked as "Sandhill Ho" on the map. It also has a large house known as Fair Oak and formerly owned by Lord Carnegie, now deceased.

(Historians in the area may include Dick Garn 821 450, Eric Piper 821 758 and Richard Barber 821 334. Roger Chatterton Newman of Rake is an author who has written about the area. However, I have not contacted any of these people.)

Those on the left are the direct descendants; those on the right are their husband/wife/partner.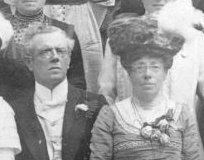 Marianne Elizabeth married Robert Elias Gosney (born in Chelsea on 27 October 1856) in 1881. As a side-comment, there is another sampler which my mother had and is now in my possession which was done by Robert Elias's mother, Julia Setchell, at the age of about 10. It is inscribed "J A Setchell. March 12 1838" - about 27 years earlier than the one done by Marianne Elizabeth herself. (Click here to see it)
Like her mother, Marianne Elizabeth was about 26 years old at the time of her marriage. We don't know where this marriage took place but we know that they had three children, Violet who was supposedly born around 1881 and died at the age of 10, Henry Thomas who was born in London on 6 November 1883 and Percy, about whom little is known. Marianne died in London on 24 December 1914 at the age of 59. Her husband Robert Elias died in Hove on 13 November 1935 at the age of 79.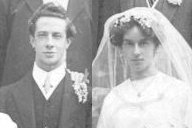 Henry Thomas Gosney was given a gold watch by his grandfather (Thomas Boultwood, above) on his 18th birthday in November 1901. He married Mary Rose Symmonds at a Catholic church in Wandsworth, London on 5 August 1911 when he was 27 years old. She had been born at Wandsworth on 20 November 1884 and hence was about a year younger than her husband. (there is an article about the wedding and the bride's eldest brother here.)
Henry and Mary had two children, Enid Joan, born in Tooting Bec in London on 29 May 1913 and Maurice Henry born on 25 November 1919. Henry Thomas died on 29 December 1943 when aged 50. Mary Rose later married Henry William Smith (a long-term family friend) in Three Springs, Australia and died on 23 May 1975 at the age of 90.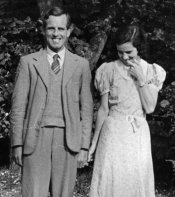 Enid married Francis ('Frank') William Sawkins at Hayes in Middlesex on 31 January 1935 when she was 21 years old. Frank was born in London on 13 April 1907 and so was about 6 years older than her. Frank was a mathematician, qualifying as an actuary in 1940 and spending most of his working life in the Eagle Star insurance company in Cobham and London. He also played the piano all his life, taking up a part-time occupation of playing for children's dancing classes after his retirement. Enid worked for a short while in the Civil Service until she was obliged to resign on her marriage. She was active in the Women's Institute for most of her life and also did much craft work. (Click here for the eulogies of Enid and Frank)
Enid and Frank had two children, Alan Francis born at Hillingdon on 6 December 1938 and Roger William (the present author) at Woking on 1 April 1943. Frank died at the age of 90 on 15 October 1997 and Enid at the age of 87 on 21 August 2000.
Alan Francis married Pauline Lunn on 12 March 1966 when he was 27 years old. She was about 18 months younger than he. Alan is an engineer, working for a plastic coating company and then for a nuclear power company, although he is now retired. They had one son, Matthew Norman, on 10 July 1971.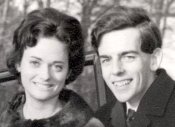 Roger William married Justine Roma Gunston at Esher, Surrey on 21 December 1963 when 20 years old. She was almost exactly the same age as he was. Roger qualified as an actuary at the age of 23 and worked principally for various consultancies in England and Australia. He retired from full-time work at the age of 42 and did voluntary work for the Religious Society of Friends (Quakers), the Gay & Lesbian Welfare Association and a charity for homeless lesbian, gay, bisexual and transgender youth. Justine and Roger had four children, Paul Mark born in Redhill, Surrey in 1965, Joachim Roger born in Canberra, Australia in 1967, Dominic Raymond (adopted) born in Sydney in 1969 and Cara Joan (adopted) born in Sydney in 1970.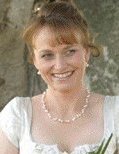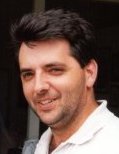 After their marriage ended in 1974, Roger, who has lived in Brisbane since then, later married Julie Elisabeth Gee and adopted her child, Stuart Victor Gee (born 1967). That marriage ended in 1988 and Roger lived with Gary Yong Gee, a pharmacist, from 1989.
Joachim has four children by his partner Karanne Kliese, who is about 18 months younger than him. They are Jessica and Monique born in 1993, Thomas Samuel Wade born in 1995 (all born in Brisbane) and Jamie, born in 1999 in Brisbane, although her parents were living in Boonah at the time. Their photographs are shown below.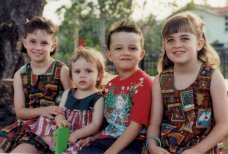 As at the date of this note, Stuart has two children by his wife Geraldine (whom he married in Manila on 4 April 1995), namely Gerry ('Jay') born in Manila in the Philippines that year and Lucymay born in 2001 in Brisbane, where they now live. Paul is married to Nadia and is living in Sydney, Joachim is living in Brisbane, Dominic is married to Carolyn with one child (Alex) and is living in St Albans in the UK and Cara is married to Rick and has two children (Billy Ray and Kipp) and is living North of Brisbane.